My Influences
My name is Stéphane Boss, I am the owner and founder of BYDFAULT. Husband of Nathalie, we have three wonderful boys Matt, Alex and Ben. I was born in the mid 60's and raised in France. I relocated to the United States in 2007 to continue a career in sales and marketing with corporate America.

Aleksandr Solzhenitsyn on left, my grandfather
on the far right behind.
My grandfather was a printer in Paris. A pretty well-known one actually. He was the very first to secretly print Russian author Alexandre Soljenitsyne in 1973 and against USSR's will (but that's another story*). At a young age, I was hanging around these huge linotype machines. He taught me how they worked, taught me the different type of papers... But maybe the biggest lesson in life I will keep from him is this: never take things for granted and forge your own opinion after you do your research.
My grandfather also passed down my ability to follow my gut and do what I think is the right thing to do.
My father was a graphic designer. As an entrepreneur, he had his own studio in Paris and specialized in direct mail ads. Growing up, I was in his office every day, and learned how to create brochures and ads; and check for typos. As a teenager and young adult I swore I would never do what he does. So ironic isn't it? The lessons I learned from being at his side during all those years include:
kind patience
being meticulous
keeping it simple, and
an eye for what works and doesn't - when it comes to branding
My dad, me, Matt, Alex and Ben.

My dad in the middle with his team at the office.
And besides running the business and spending time with the family what do I do? I run!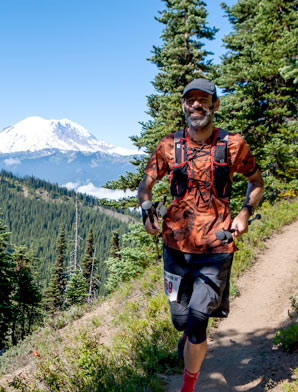 I started to run in 2015 literally with zero experience. I was hooked and started to run on trails. Tiger Mountain and Squak Mountain in Issaquah, WA rapidly became my playground. I now run Ultra distances (50k, 50 miles, 100miles…) and currently, I am training for the very big one in September 2019: Lake Tahoe 200 (miles)! After two self-supported 6-day races in the Atacama desert and Mongolia I think I am mentally (and physically?) ready to tackle something harder.
The more I run, the more I am eager to learn what the human mind/body is capable of. Probably my perseverance, curiosity and fascination about how I can trick my brain so my legs keep moving is what makes this possible.
I use the same passion and dedication when working with clients. Always going the "ultra" distance for my clients' satisfaction!
The ahah moment
Though I said I will never do what my dad did I later edited my saying adding: "If I think I can make a difference doing something different then maybe I will reconsider".
In 2010 I went to Guatemala with two of my sons to volunteer at a rural school. It was my first volunteering experience. This trip overwhelmed me emotionally. When I came back I was transformed. Obsessed about how I could give back to the community at a larger scale I called for a family meeting. And the outcome was BYDFAULT. I wanted to create a company that will give back by default and from day one. And that's what I did. In August 2012, BYDFAULT was launched.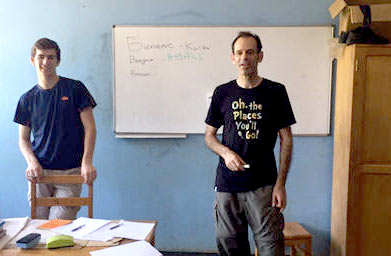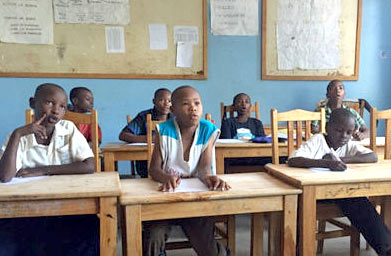 Volunteering at a rescue center for street children in Tanzania.